Variants –
Defining shapes
Building elements can be designed in different variants. Whether for practical or aesthetic reasons, when it comes to the shape of an element, there is scope for achieving the ideal result. With this in mind, steel and glass can be designed in many ways.
Special shapes: Round arch, trapeze / studio
Steel is exceptionally malleable and retains its stability and elasticity like no other material. This allows profiles to be bent to a radius of up to 200 millimetres (Janisol Arte) or 600 millimetres (VISS facade). The material properties of the integrated thermal insulation bars are also suitable for the bending process. With this flexibility, there are virtually no limits to your imagination when it comes to round and rounded door, window and facade design. These special shapes are offered in-house at Jansen, which guarantees their continued function. Since 2020, Jansen's special shapes have also been approved for CE marking. The same applies to the stable and permanent connection of steel profiles for unusual angles, such as those found in trapezoidal or studio windows.
Connection: Transom windows, side sections
Transom windows are positioned above a window or door element, side panels at the side and lower lights below. They create additional visual and functional aspects in the interplay between shape, opening function and light; they can be adjusted in size, can be angled, curved or trapezoidal and can be fixed or opening. They offer design options in inaccessible and underappreciated places.
Thanks to the compatibility of the various Jansen systems, different requirements can be combined with the same face widths – such as fixed glazing next to doors that have to meet the most stringent fire and smoke protection requirements, if necessary.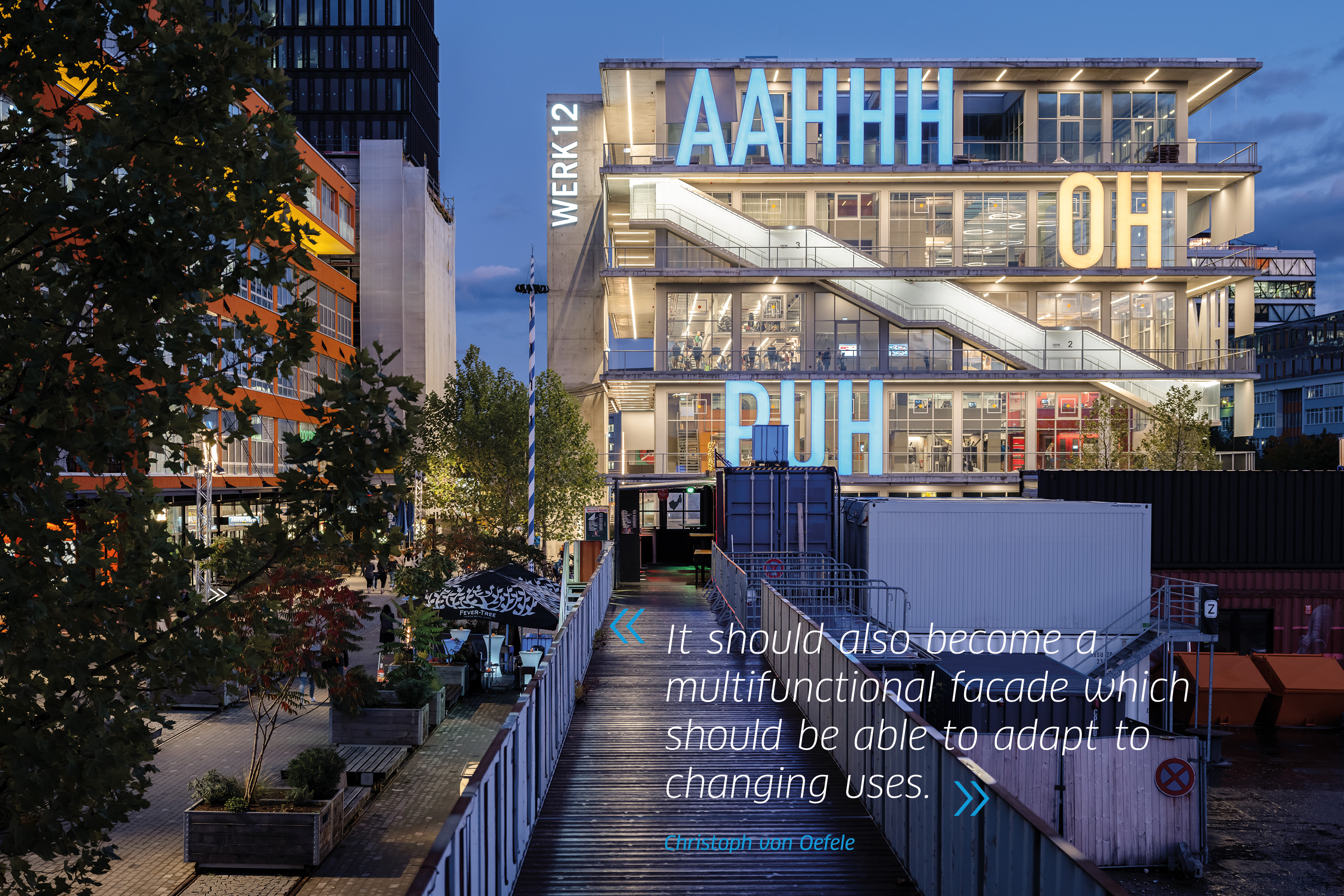 Roof: Pyramid, dome, gable, mono-pitch roof
The shapeability and stability of steel form the basis for the design of a wide range of roof shapes. Here, the maximum possible sizes and the feasible transparency of structures with a span width of up to 4.3 metres are impressive (fire-resistant roof glazing). In a construction with a VISS roof standard, the size depends on the statics and is calculated on a case-by-case basis.
For example, the 'high wall' of a mono-pitch roof can be elegantly designed using Jansen facade profiles. In this way, the wall becomes the design part of the roof and offers the opportunity to shed more light on the interior in a sophisticated way. Other options include ornate glass domes or pyramids that allow daylight to enter the rooms below or provide a view of the sky in the opposite direction.
Facade: Profile design, roof connection, polygon glazing
As a rule, the design of the facade generally plays a key role in the appearance of a building. Add-on profiles, roof connections or polygon glazing can provide very individual facets here. The width and depth of profiles also play a decisive role, depending on whether generous insights and outlooks are to be provided. With different add-on profiles, an individual look can be achieved and the interplay of light and shadows can be varied depending on the viewing angle. The roof connection, i.e. the transition from the vertical to the inclined roof surface, can be designed using Jansen systems, for example, with a discreet transom. The systems of the facade and roof are coordinated in such a way that the elegant line continues.
With the broken surface of polygon glazing, on the other hand, the vertical as well as the sloping roof surface is an eye-catcher. It also makes it possible to reject light and wind in a targeted manner or to capture them at specific angles. VISS facades or roof glazing allow for various angled connections and are tested against fire as VISS Fire. VISS can also be offered in a curved form.
These pages might also interest you