Building with steel and style
A tribute to the golden twenties
The 1920s stood for progress. With clear shapes and reduced designs the architects of the time broke with old traditions. Flat roofs and lots of glass characterised their buildings. A new, timeless design was born: the Bauhaus style.
It expressed the new objectivity of the 1920s and introduced affordable, modular construction to architecture. But the Bauhaus style also reflected an independent attitude towards life – the hope for a new beginning. The architects radically redefined the art of building. This design vocabulary, with its simplicity, is still considered modern today. Steel became one of the most important materials – and so it has remained to the present day.
That's why Jansen, as a steel profile manufacturer for windows, doors and facades, is presenting BAU 2019 with a clear focus on the revolution of construction with steel. Our exhibition motto "building with steel and style" is a tribute to the golden twenties and an invitation for you to discover our collection on the focus topic of renovation.
We look forward to your visit to hall B1 at booth 320!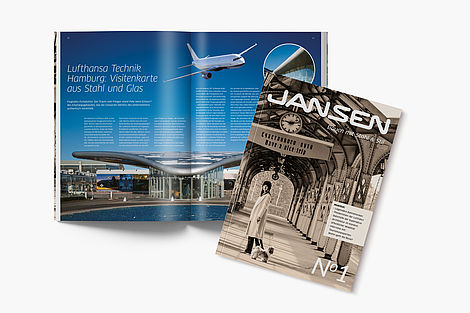 "Building with steel & style" magazine
"Building with steel & style" is not just our exhibition motto for BAU 2019, but also the title of our customer magazine. Get a sneak peek at edition #1 on the topic of mobility and secure edition #2 on the topic of renovation.